Well... it's official. Lily is the quorn queen.
Place in front of Lily a piece of cooked chicken and a piece of quorn 'chicken' and guess which one she will go for?
Yep! She prefers the quorn!!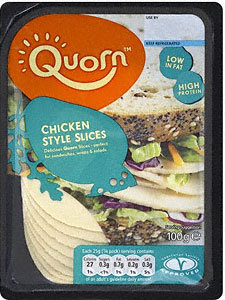 Daisy on the other hand will reject it outright - just as any self respecting feline would do - but Poppy has her mother's loopy streak and likes both quorn and chicken.
I'm wondering how many other cats are like Lily or is she really one of a kind? Think I might set up a facebook group and see; I'll call it "My Cat Likes Quorn".
That should get a few visitors, especially if someone misreads the title lol.